Case Studies
"It looks impossible until you do it, and then you find it possible" Evelyn Underhill
What our clients say:

A Connolly Ltd
This family business was set up in Wigan in the 1980s, originally to deliver painting and decorating services. The business is based on a clear set of values – serving local clients and communities, caring for customers, being accountable, employing local people and investing money back into the area.   
With a shift in emphasis in 2009, Connolly's began to broaden its range, working with social housing landlords to upgrade and modernise their stock. In the last decade the business has grown in size, scope and ambition from a turnover of £2m in 2011 to an expected turnover of around £14m in 2016.
Following a diagnostic workshop with the Senior Leadership Team they were keen to develop talent from within, and to hold on to the values and culture which had helped them in their success. "As our business grows we want our talent to have the right skills and capabilities to deliver excellence for our clients."
We then designed and delivered a leadership development programme for 27 managers. The approach needed to be practical and firmly embedded in the business. A combination of short events and work-based learning with a balance of individual and team leadership produced quick results and impressive outcomes.  This form of learning accelerates the development of a high performance culture and builds confidence especially in more junior staff.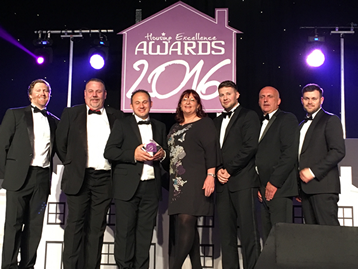 As a result, high performance team skills are being transferred to the business and there is a greater understanding of leadership as a key driver of Connolly's future success.
Two stand-out achievements – the programme gained recognition from the Chartered Management Institute, mapped against National Occupational Standards, and  A Connolly Ltd was awarded "Contractor of the Year" at the prestigious Housing Excellence awards in May 2016. This reinforced the success of the programme, and we are delighted to share in their story.
---
Earl Mountbatten Hospice, Isle of Wight
The proposal for a development programme for mid-level managers at Earl Mountbatten came from a growing awareness that leadership is needed at all levels within the hospice if it is to meet the demands it is facing. Drawing on learning from the MA in Hospice Leadership at Lancaster University, Liz Arnold, Director of Patient Services, was keen to develop the potential of managers at mid-level from different disciplines and backgrounds, in order to align cultural norms with the strategic requirements and deliver operational results. No small task! The result was a programme designed and delivered by Skyline which engaged mid-level leaders in working more strategically, delivering key business projects and developing their skills and potential to improve organisational, team and individual performance.
Liz says: "Leading from the Middle has been the catalyst for a significant culture shift at the hospice; it has been instrumental in the development of collective leadership, meaning that everyone takes responsibility for the success of the organisation as a whole – not just their own jobs or area of work. Being a well-led    organisation means having strong and effective leadership and a supportive, values-driven culture. Leadingfrom the Middle has facilitated the development of an open, collaborative culture, encouraging teams,     including executives and trustees to work together to solve problems and innovate. Good leadership at all levels of the organisation, shapes its culture into one where people who use the services and the quality of their care and experience comes first."